The Offset Network was created to define the structures and processes for institutions interested in developing Peer Reviewed or Innovative Offsets. Peer Reviewed Offsets follow an existing accepted carbon-reduction protocol (such as those approved by the Verified Carbon Standard or the Climate Action Reserve, among others), while Innovative Offsets utilize novel institution-created project-type protocols or existing protocols simplified from their program accepted version. The graphic and language below provides additional detail on the different types of carbon offsets.
Innovative Offsets
Innovative Offset Projects are those which pursue new strategies outside of currently approved offset methodologies. In general, Innovative Offset Projects may take one of three forms:
a) Innovative Offset Projects may draw on widely-accepted existing methodologies for generating offsets, offering approaches which reduce the requirements of currently accepted offset protocols such that they are approachable by a greater audience and feasible on a smaller scale.
b) Alternatively, Innovative Offset Projects may incorporate methodologies used for other purposes but which have not yet been demonstrated specifically in the area of carbon offsets.
c) Finally, Innovative Offset Projects may put forth truly unique approaches for generating carbon offsets.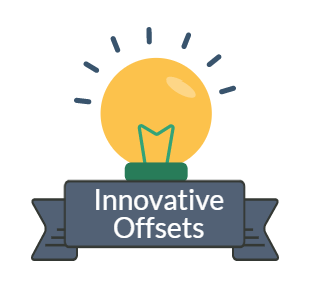 For additional information on innovative offsets, click below.
Innovative methodological approaches for carbon offsets should be grounded in theory, should reference peer-reviewed literature, and should ideally be supported by anecdotal pilot initiatives.
Innovative offset projects reflect the spirit and culture of creativity, innovation, critical thinking, applied research, and experiential education promoted in higher education. Furthermore, innovative offset projects support students, faculty, and staff to creatively apply their knowledge and ideas toward adapting existing methodologies and developing new methodologies for meeting institutional emissions commitments. The bi-product of this process is real-world testing of climate change solutions and, for those that are revealed to be effective, the expansion of the project opportunities for offset credit generation.
Peer Reviewed Offsets
Peer Reviewed carbon offsets are the same as traditional market available carbon offsets with one key difference. Instead of receiving verification by an International Standards Organization (ISO) accredited verifier, Peer Reviewed offset credits are verified by a peer institutional verifier and therefore, at present, may only be used towards an academic institution's carbon neutrality commitment. These credits are non-marketable and may only offset scope 3 emissions, not to exceed 30% of an institutions total emissions.
For additional information on peer reviewed offsets, click below.
Traditional Offsets
Offsets are produced by projects around the world, encompassing wind projects in India, reforestation projects in Zambia, landfill methane projects in the United States and many others. Project developers typically develop their projects in accordance with requirements laid out by a third-party standard. In 2016, 99% of offsets sold to voluntary (that is, non-regulated) buyers were certified by a third-party standard. To prove that real emissions reductions have taken place, project developers pay auditors to assess the project's integrity initially, and then return to verify the emissions reduced after a project is operational.
For further information on voluntary carbon offsets, visit Ecosystem Marketplace's carbon offset reports. For information on compliance based carbon offset markets, refer to the managing entities for those markets, for example the California Air Resource Board.
Steps for Generating Peer Reviewed & Innovative Carbon Offsets:
1) Project Idea Generation- this idea can align with current protocols or can be original and provide co-benefits, such as academic value.
2) Protocol Selection is determined by your project idea – this requires selecting either Peer Reviewed (the use of an existing registry program approved protocol) or Innovative (the use of a novel protocol or adjusted approved protocol).
3) Develop the Project Plan and submit it for review by a committee of experts.
4) The Peer Review Committee reviews the Project Plan and determines the project's eligibility for the Offset Network Program.
5) After approval, you build the Project Development Document (PDD) and may develop the project.
6) The project moves forward with the selected verification pathway (chosen in the Project Plan stage of the project):
Peer Verification generates carbon offset credits in either the Peer Reviewed or Innovative credit category (depending on your protocol selection)

Public Assessment is intended for more experimental projects that are not seeking to generate carbon credits but instead test a novel project for viability and scalability.